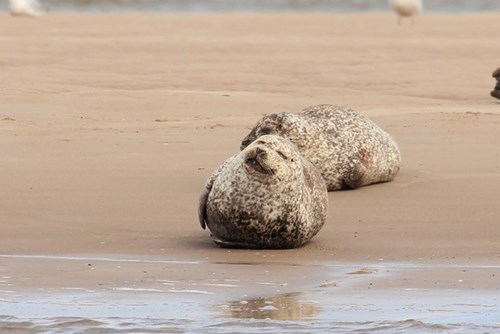 Findhorn's Seal Colony
TFVCC
Added at 18:35 on 07 March 2021
Findhorn Bay is recognised as an internationally important habitat and has a wide range of both common and threatened species. The Bay has a number of formal designations: it is part of the Moray and Nairn Coast Special Protection Area; a designated RAMSAR site; a national Site of Special Scientific Interest; a Local Nature Reserve.
TFVCC has received a report of seals being disturbed on the sandbanks at the back shore at low tide on a number of occasions recently. Witnesses have reported instances where people and unleashed dogs have approached the seals and forced them from their resting place on the sandbanks back into the sea. As our website and social media platform has a growing number of followers and the village is seeing an increase in visitors, we would like to bring this matter to beach users attention to help raise awareness and encourage respect for the local wildlife.
Findhorn's population of Grey and Common Seals are protected under the Marine (Scotland) Act 2010, the Conservation (Natural Habitats &c.) Regulations 1994, and The Protection of Seals (Designation of Haul-Out Sites) (Scotland) Order 2014 also applies. The latter Protection of Seals Order means that it is an offence to intentionally or recklessly kill, injure or take a seal at any time of year, except to alleviate suffering or where Marine Scotland has issued a licence to do so.
While it is understandable that people may want to get a closer look when the tide is out, it is essential that people keep a respectful distance and ensure that dogs are kept under control so as not to cause unnecessary stress to the seals at rest on the sandbanks.
Detailed information on the legislation protecting seals can be found on the Nature Scotland Protected Species web page and the Findhorn Bay Local Nature Reserve has a great website giving more information about the flora and fauna of the bay.
07 March 2021