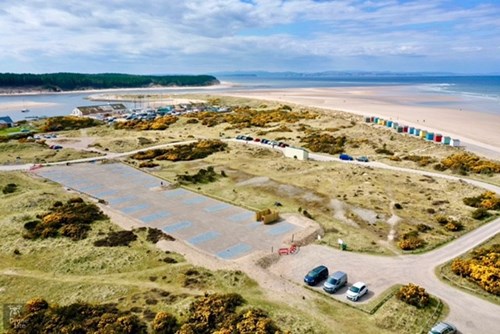 Motorhome Stopover Update 26 April 2021
TFVCC
Added at 18:35 on 21 April 2021
Our new stopover will be open from the 26th April 2021 in line with Scottish Government guidelines. Between the 26th April and 16th May we will be operating a first come service for up to 21 motorhomes, when vehicles will be able to stay for a maximum of 2 nights at a cost of £15 per night. The maximum number of motorhomes we can have is 21. The bays are clearly marked on the ground, grey gravel with white markers. The bays are spaced in line with fire gap regulations, please do not park between the marked bays.
Our booking system should be up and running very soon and will go live on our website around the 15 May 2021. This will enable you to a book and pay for up to 2 nights and an ANPR system will enable you to enter and leave as you wish for the duration of your booking. You will also be able to make payment online.
Further details will be available on the website soon.
Due to circumstances outwith our control, there has been a delay to the installation of our waste disposal point. This will be available to users by the end of May. We kindly ask motorhome users to ensure they have sufficient onboard capacity for their waste for the duration of theior stay and dispose of responsibly at home.
There are public toilets on site which are free to use but as these are serviced by a septic tank, these must not be used for motorhome waste disposal. Thank you for helping protect our beautiful but fragile environment and we look forward to welcoming you to Findhorn.
21 April 2021