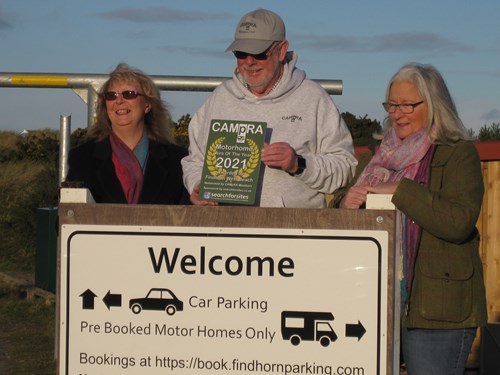 Aire of the Year 2021 by Campaign for Real Aires
TFVCC
Added on 14 December 2021
The Findhorn Village Conservation Company is delighted to announce that we have been awarded Aire of the Year 2021 by Campaign for Real Aires. Christine Hunt (Chairperson) and Cathy Low (Secretary) accepted the award from Arthur Davidson from CAMpRA on Monday 14 December.
The Aire (stopover) in Findhorn has been crowned as the top place for Motorhomers to enjoy a break as they travel across Scotland.
The Findhorn Aire opened for business in May this year and has welcomed over 1500 motorhomes to the stopover, as they visited Scotland on their travels.
Findhorn Aire won the accolade from CAMpRA , Campaign for Real Aires, a group set up to support local businesses and organisations to make parking space available for motorhomes to stay the night and spend time and money in local areas.
The Aire is operated by The Findhorn Village Conservation Company (TFVCC) who created the Aire thanks to support from the Scottish Government's Community Led Tourism Infrastructure Fund that enabled the charity to develop the site and facilitates. The Adapt and Thrive fund enabled TFVCC to develop an Online Booking System that integrates with an Automatic Number Plate Recognition Barrier. This system allows visitors to book their maximum two night stay and have secure access to the stopover during their stay.
One visitor who nominated the Aire was Jacqui Loveridge from Yorkshire who said, "I visited Findhorn Aire this year and was very impressed with the facilities and the location. There was plenty of space, it was only a short walk from the Aire to Findhorn village with its pub, shop and tearoom."
Commenting on the Award, CAMpRA's President Donald Macdonald said," We have been hearing great things about Findhorn all summer and when we asked our 24,000 members to nominate Aire of the Year 2021 – Findhorn was a clear winner. We hope other communities will see what Findhorn has achieved and follow their lead."
A delighted Christine Hunt MBE, Chairperson of Findhorn Village Conservation Company said," We are so pleased to have been awarded Aire of the year. All our team have worked hard to bring it about in a few short months. We look forward to being able to welcome future visitors "stopping over" with us and enjoying Findhorn.